News
10/21/2001
Chapter 2: The Workshop of Daedalus
There are some new developments with the waste game. 3 shovels have appeared at www.waste-game.com, each one pops up a window containing symbols. Click below to see the symbols.
10/21/2001
I Might Be Wrong - Live Recordings
Click here to see the cover for IMBW.
I Might Be Wrong - Live Recordings is the new album that will be released November 13th in the US & Canada. It features the following 8 tracks:

1. National Anthem
2. I Might Be Wrong
3. Morning Bell
4. Like Spinning Plates
5. Idioteque
6. Everything in its Right Place
7. Dollars and Cents
8. True Love Waits

08/26/2001
This is a really great article on Radiohead.
New Yorker article about Radiohead.
A New Yorker interviewer followed the band for awhile and has some really interesting perspectives on the band and their fans.
08/26/2001
Chapter 1 of waste game is over. The new chapter begins soon.


Byzantine Ziggurat Page on radiohead.com
well, the first chapter has finished with reasonableman bringing most of the ships to the port of Crete. The greek letters on the ships were the passwords, and when the ships crossed paths, a new picture showed the answer to the multiple letter passwords. You can now register at Byzantine Ziggurat Immigration Control to enter Crete. see the -WASTE GAME- page for more details.
07/05/2001
w.a.s.t.e. game #2 in progress...


Byzantine Ziggurat Page on radiohead.com
go to the byzantine ziggurat page on radiohead.com and click on the word "seafaring" to see the ships floating around. where might they end up, and what to do then? check it out and see what happens.
7/01/2001
'Knives Out' will be next single.
The next single will be 'Knives Out', released early August. The following are candidates for b-sides: 'Cuttooth', 'Life In A Glass House' (full length version), 'Fog' and 'Worrywort'. Final list is not confirmed yet. Worrywort is mentioned at the official site:

http://www.radiohead.com/alexandria/tome009r.html
6/30/2001
early draft of Life in a Glasshouse's lyrics....
yeah, it's been awhile since i've posted any news (sorry?) but i couldn't find much of anything of interest. here's something posted on the radiohead MB by "url" (aka coldbrains) that IS interesting, though. perhaps an early draft of some of the lyrics to "Life in a Glasshouse" off of Amnesiac. worth it to look at i think. it's off the mirror sites hosted by followmearound.com - sooo glad they saved the old versions of radiohead.com!


The mirror sites available are:
6/13/2001
w.a.s.t.e. game?
Byzantine Ziggurat Page on radiohead.com
There are games on radiohead.com that award you prizes if you solve them. The first game is over, and the prize is reportedly 1)recognition by your peers and 2)a green frisbee signed by max k (who developed the games along with thom and co.). go to the byzantine ziggurat page on radiohead.com to get in on the next game! who knows what the next prize will be?
6/11/2001
new stuff at Shynola's site
deleted scene from pyramid song video and more.
6/11/2001
ticket presale 6/14 on mtv.com
Tickets for August tour dates are available on an internet presale June 14th at 10am (local) at mtv.com.
6/11/2001
more tour dates
7/30 Atlanta @ Meadow at Stone Mountain
8/1 Chicago @ Arvey Field
8/3 Toronto @ Molson Park
8/5 Montreal @ Parc Jean Drapeau
8/8 Cleveland @ Blossum Music Center
8/11 Washington D.C. @ Bull Run Park
8/12 Washington D.C. @ Bull Run Park
8/14 Boston @ Suffolk Downs
8/16 New York @ Liberty State Park
8/17 New York @ Liberty State Park
5/16/2001
Colin talks to Wall of Sound about plans for the NEXT album - after Amesiac, and some comments on their Kid A/Amnesiac release.
"We've talked about doing a guitar album next," Greenwood reports. "The reason we did these two records is to show that anything is possible rather than everything is expected; the last thing we wanted to do was go into the studio and make another version of OK Computer. My best guess for the next album is a combination of Amnesiac with more guitar music. But the most important thing is, it's song-based music rather than sort of instrumental, non-lyric based music. We try not to insult or bore the intelligence of our audience, because we're aware their tastes are moving on as well as ours with music, and it's exciting to be part of that."

5/16/2001
The Desktop Proctors, the newest iBlip 2 companions, from Capitol Records are now available.
get 'em at hollywoodandvine.com
5/8/2001
NME interview with Thom
Thom Yorke has spoken out against the secretive power of the UK intelligence service, MI5, in an exclusive interview with NME.COM.
MI5, which is famously secretive and unaccountable, is involved in intelligence work to investigate and counter covertly organised 'threats'. These include terrorism, subversion, espionage, serious crime and the proliferation of weapons of mass destruction.

Talking about the 'Reclaim The Streets' protests last year, Yorke claimed the authorities were closely monitoring protesters. He told NME.COM: "I know some stuff about MI5 that would shit your brain. But I can't tell you, 'cos they'll do it to me, too. Seriously. And I'm not winding you up, either."

Thom Yorke has broken his silence to give a rare interview, which will appear in next week's issue of NME (May 15). The singer, who has not spoken to the paper for five years, explained his decision to relent. "I just got sick of holding grudges basically," said Yorke. "Enough's enough, it's boring and I can't be arsed any more, really."


4/20/2001
Show - Shoreline Ampitheater in Mountain View, California June 27 2001.
http://www.ateaseweb.com/news.htm
Tickets available through Ticketmaster on May 13th. Price is $37.50 for seats or lawn.
Visit the Shoreline Ampitheater's web page
4/17/2001
Pyramid Song B-sides - Pyramid Song single in UK on May 21, 2001
http://www.ananova.com/entertainment/story/sm_226924.html?menu=
Radiohead reveal Pyramid Song B-sides

Thom Yorke has revealed the tracks which will feature on the B-side of the new Radiohead single, Pyramid Song.

The new bonus tracks are Transatlantic Drawl, Fast Track, Kinetic and Orgy.

Virtually all the new album Amnesiac is now available to download on Napster.

Thom revealed the forthcoming B-sides while chatting to fans on the official Radiohead website, NME.COM reports.

Pyramid Song will be released in the UK on May 21, with Amnesiac available from June 4.

4/14/2001
Amnesiac Release Update
Info found at [AT EASE]:
http://www.ateaseweb.com/news.htm
The new iBlip will launch on April 30th. Here are the features of iBlip 2.0:
iBlip 2.0 will contain:
Downloads
Full album listening party of Amnesiac
Videos for "Pyramid Song" and more
Interview with Ed and Colin
Live webcasts
National contest to win a trip for two to see the band in Los Angeles - a listener from the station with the most entries will win.
Radiohead postcards - send exclusive Radiohead postcards that arrive in the mail - now able to send internationally!


Here's a preview of IBlip 2.0...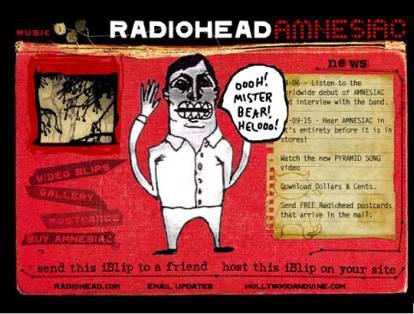 4/14/2001
Amnesiac Release Update
Info found at [AT EASE]:
http://www.ateaseweb.com/news.htm
- "I Might be Wrong" will be shipped to US radio stations on April 23. - A 4-5 song track EP featuring 2 album tracks and B-sides will ship to US College Radio on April 24.
- The Amnesiac package will include 28 page four-color booklet. and there will be a special limited edition in a special DVD case sized package covered in red fabric and logo embossed featuring a 32 page four-color booklet.
- The first video from 'Amnesiac' will be a fully animated piece for "Pyramid song" created by the minds at Shynola. The clip will be delivered in mid April and immediately ship to MTV, VH1 and all local/regional shows.
- There may be a "Knives Out" video released later this Summer.
- IBlip v2.0 will be released on April 30th.


4/7/2001
Radiohead Touring
Info found at wall of sound:
http://wallofsound.go.com/news/stories/radioheadpreview031501.html
Radiohead will tour to support the album [Amnesiac], starting on the West Coast in June, heading to Europe in July, and returning to the United States in August.
4/7/2001
Amnesiac track comments
Info found at cdnow.com:
http://www.cdnow.com/cgi-bin/mserver/redirect/leaf=allstararticle/fid=255580/from=sr-117124
"Packt Like Sardines in a Crushd Tin Box" kicked off the session with a trippy, dance backbeat and a pounding kettle drum (or, perhaps, drummer Phil Selway was literally banging on a kitchen pot). Yorke's vocal was mostly distorted throughout the track, weaving in and out of indistinguishable (in this setting, at least) sampled vocals.

"Pyramid Song" creeped up next, as a piano-laden intro quickly gave way to a minor howl from Yorke. A lush and stormy backing track persevered throughout, giving off the impression that the band is symbolically lost at sea. When the drums kicked in, the song almost became a big band-era jam (more on that later). As the crowd at Plush became lost in the track (many folks were seen with their eyes shut, as if in some sort of trance), a large, overpowering orchestral crescendo rose and fell, bolting those lost in the music back to reality that this is Austin, Texas, not a Pentecostal sermon.

"You and Whose Army?" slightly recalled OK Computer in that Yorke's yearning vocal cry of "Come on, Come on, Come on" repeated over and over somehow felt a tad like "Karma Police." A crunching organ and string section drives the track, which falls under lilting and poetic.

"I Might Be Wrong" then seemingly came out of left field, with its bouncing, blues guitar intro and almost country-western feel. Heads were bobbing and feet tapping at Plush for the first time during the session, and had it not been so crowded, some interpretative dancing may have broken out as well. The tune, an interesting and expertly executed clash of creaky, American roots rock and U.K.-based indie dance, ended before the dust had even cleared.

A busy, cymbal-driven intro spilled out next as "Dollars and Cents" rode a wave of outlandish instrumentation in the same vein as Kid A, if not harsher. Standing out above the sonic mess, however, was Yorke's bird-like call, which wailed throughout.

Last but certainly not least was "Life in a Glass House," another surprise from a band from which nothing seems surprising anymore. Beginning with an atmospheric loop and clanging church-like bells, the song quickly morphed into a New Orleans-style, big-band rumpshaker. Fueled by a horn section that included a clarinet, a trumpet, a trombone, and who knows what else, "Glass House" would have served well as a time-travelers glimpse into the Third Millennium during a 1930s Mardi Gras ball.

And with that, it was over. Some people were left puzzled, some ecstatically satisfied, but one thing is clear. On half of Amnesiac at least, Radiohead has once again not bowed to expectations or modern conventions. Fans will find the effort, due June 5 on Capitol Records, more analogous with Kid A than The Bends -- no surprise as the album was recorded during the same sessions as the former -- and every bit as unexpectedly chilling.


Radiohead 7 July 2001
At South Park, Headington, Oxford.
This all day music event features an exciting line up of special guests (to be announced at a later date) as well as other Oxford bands.
We can also now confirm and announce that Beck will be on of the band's special guests at the Oxford show. This will be a solo acoustic performance.
Tickets are £27.50 each and go on sale this Friday 16th March at 9.00 am through all of the following outlets:
Radiohead ticket line 0870 730 7305NOT RIGHT NOW

http://www.radiohead.comNOT RIGHT NOW

Box Office: The Zodiac, 190 Cowley Road, Oxford OX4 1UEQUICKLY! RUN!

There is a booking fee of £2.25 except for cash purchases at the Zodiac where there will be no surcharge.

Radiohead's new album, Amnesiac, is the second and final selection of songs from the same sessions as Kid A. The sessions were recorded over the last 18 months. Many of the songs from Amnesiac have already been debuted live on the band's 'Tent Tour' last Autumn.
Full track listing of Amnesiac is as follows:-
01. packt like sardines in a crushd tin box
02. pyramid song
03. pulk/pull revolving doors
04. you and whose army?
05. i might be wrong
06. knives out
07. amnesiac/morning bell
08. dollars & cents
09. hunting bears
10. like spinning plates
11. life in a glass house

Amnesiac is released on the 4th June.
The first single from Amnesiac, Pyramid Song, is released on May 21st in a variety of entertaining formats. Probably. Unless you're in America, where the first single will be something else. Probably.